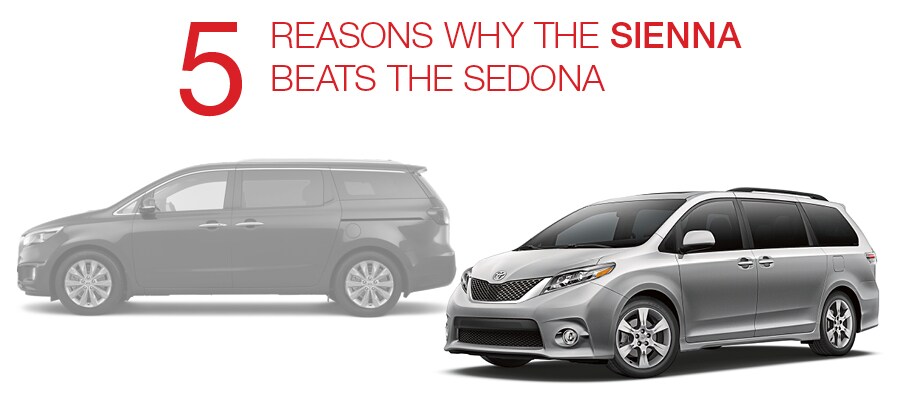 2017 Toyota Sienna vs. 2017 Kia Sedona

2017 Toyota Sienna

vs.
2017 Kia Sedona

1.                           19/27/22

Fuel Economy
(city/hwy/combined)

18/24/20

2.                            296 HP
Horsepower

276 HP

3.                           Standard
ToyotaCare
Not Available
4.                       150 Cubic Feet

Cargo Capacity

142 Cubic Feet

5.                   Driver Easy Speak
Technology
Not Available
Get an Inside Look at What Puts the Toyota Sienna Ahead of the Competition

When it comes to shopping for a new family hauler, how do you choose the best vehicle for satisfying all of your family's daily driving needs? Well, here at Puente Hills Toyota, our team members recommend looking no further than the 2017 Toyota Sienna. As powerful as it is amenity laden, this year's model aims to please in far more ways than one. Don't just take our word for it though. To learn more about this year's model, along with how it compares to the 2017 Kia Sedona, we invite you to read on below...
Why the Toyota Sienna Comes out on Top


1. Fuel Economy

Have your heart set on a fuel efficient ride? Then look no further than the 2017 Toyota Sienna. While the EPA estimates the new Toyota Sienna's fuel economy at 19/27/22 mpg (city/highway/combined), the Kia Sedona is able to return estimates of 18/24/20 mpg - making it far less efficient than the Toyota Sienna.

2. Horsepower

Opt for the 2017 Toyota Sienna and you'll be pleased to find that it delivers greater maximum torque and horsepower than the Kia Sedona. While this year's Sienna is able to churn out a dizzying 296-horsepower and 263 pound-feet of torque, the Sedona is only able to achieve 276-horsepower and 248 pound-feet of torque.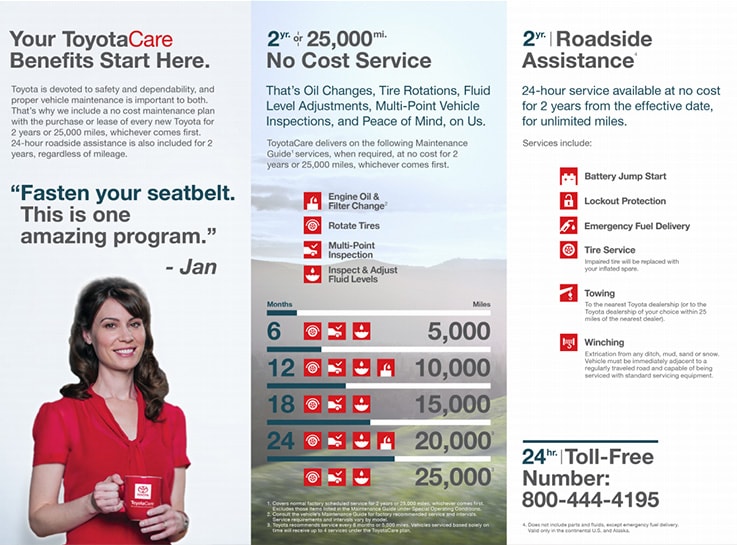 3. ToyotaCare

Did you know that the best way to keep your vehicle on the road is to fulfill its regularly scheduled maintenance needs? Fortunately, ever Sienna model comes standard with the ToyotaCare 2-year/25,000-mile No Cost Maintenance Plan. Unfortunately, such a service is not offered by Kia.

4. Cargo Capacity

Boasting a remarkable 150.0 cubic feet of cargo capacity, the 2017 Toyota Sienna doesn't make any compromises when it comes to cargo space. Offering more storage space than its Kia competition, the new Toyota Sienna makes for the ideal pick when it comes to those shopping for a spacious ride.


5. Driver Easy Speak

Unlike the 2017 Kia Sedona, the all-new Sienna can be had with a long list of people pleasing features. Available with Driver Easy Speak, you'll enjoy conversing with your rear seat passengers when behind the wheel of the 2017 Toyota Sienna. Unfortunately, such a feature isn't available to Kia shoppers.
Take on the Road Ahead with the 2017 Toyota Sienna!
Whether you're still in need of some convincing, or are ready to get behind the wheel and take the 2017 Toyota Sienna out for a spin, we invite you to stop by our showroom to speak with a member of our sales team. Conveniently located in City of Industry, CA, we look forward to welcoming you in to our new Toyota dealership soon.