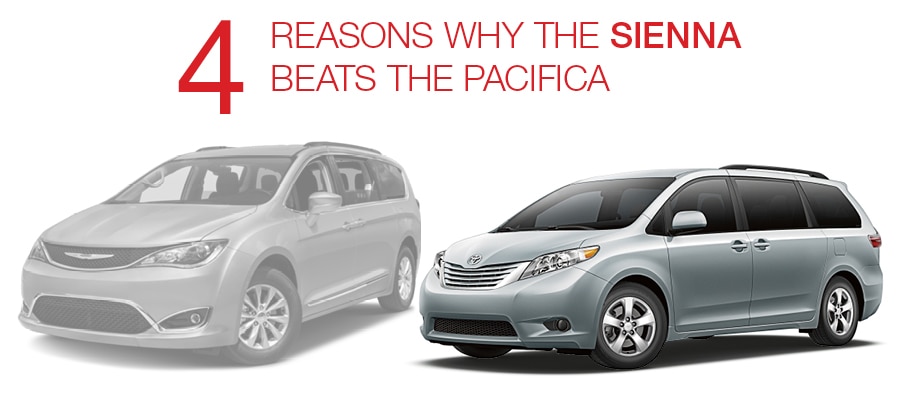 2017 Toyota Sienna vs. 2017 Chrysler Pacifica

2017 Toyota Sienna

vs.
2017 Chrysler Pacifica

1.                     150 Cubic Feet

Cargo Volume

140.5 Cubic Feet

2.                        Standard
ToyotaCare
Not Available
3.            Standard: 8 Passenger Seating

Seating
Standard: 7 Passenger Seating

4.                         7 Inches

Technology
(Touch Screen Display)

5 Inches

Get the Inside Scoop on What Puts the Toyota Sienna Ahead of the Competition

When it comes to shopping for a family friendly vehicle, our team members recommend putting the 2017 Toyota Sienna at the top of your list. Driven by a V6 engine, and offering both the space and features that your family needs to enjoy the long road ahead, this year's Sienna makes for the ideal pick among its segment. Interested in learning more about this year's model? Then we invite you to read on below as we compare the 2017 Toyota Sienna to the all-new Chrysler Pacifica...
Gear up to Make the Toyota Sienna Your Top Pick


1. Cargo Volume

While the 2017 Toyota Sienna's spacious interior boasts a full 150 cubic-feet of cargo volume, the Chrysler Pacifica offers a meager 140.5 cubic-feet of space for you to work with. Offering almost 10 cubic-feet more than its competition, this year's Sienna makes for the ideal pick among growing families.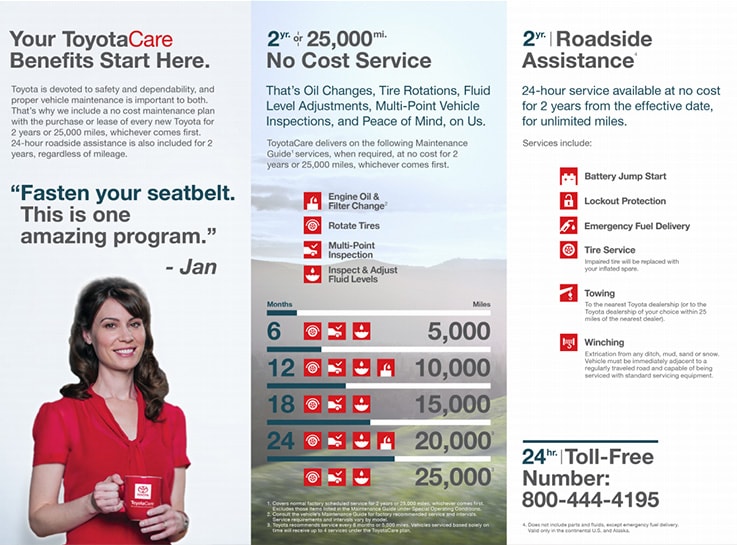 2. ToyotaCare

When it comes to keeping your vehicle in pristine condition, we recommend following up on its regularly scheduled maintenance needs. Fortunately, this year's Sienna comes accompanied by a 2-year/25,000-mile No Cost Maintenance Plan. Unfortunately for Chrysler shoppers, such a plan is not available.

3. 8-Passenger Seating

With seating for up to 8-passengers, the 2017 Toyota Sienna knows just how to please when it comes to its spacious interior. And when it comes to the Chrysler Pacifica? Seating for 8 will require shelling out a full $495.


4. Touchscreen Display

Opt for the Toyota Sienna, and you'll be pleased to find that it comes outfitted with a 7-inch high resolution touchscreen display. While the Chrysler Pacifica is also available with such a feature, its own touchscreen display is 2 inches smaller than what the 2017 Toyota Sienna has to offer.
Take on the Road Ahead with the 2017 Toyota Sienna!
Whether you're still in need of some convincing, or are ready to get behind the wheel and take the 2017 Toyota Sienna out for a spin, we invite you to stop by our showroom to speak with a member of our sales team. Conveniently located in City of Industry, CA, we look forward to welcoming you in to our new Toyota dealership soon.