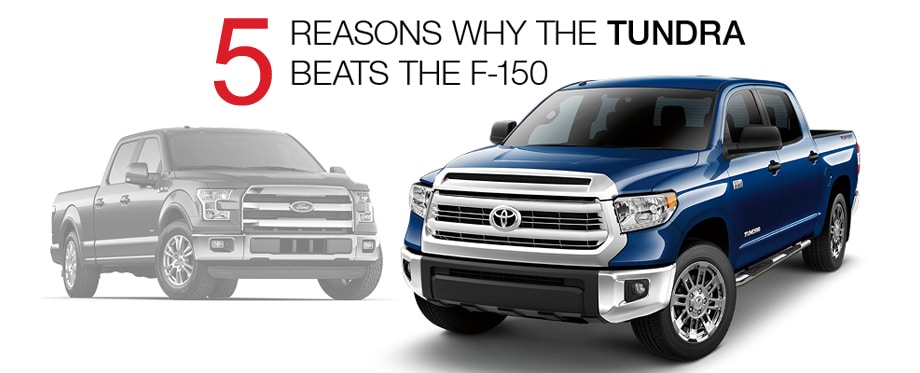 2017 Toyota Tundra
vs.

2017 Ford F-150

| | | |
| --- | --- | --- |
| 2017 Toyota Tundra | vs. | 2017 Ford F-150 |
| 1.                           $31,315 | MSRP | $32,085 |
| 2.                        310@5600 | Horsepower | 282@6250 |
| 3.                         Standard | ToyotaCare | Not Available |
| 4.                       327@3400 | Torque | 253@4250 |
| 5.                       6,800 LBS | Towing Capacity | 5,000 LBS |
The 2017 Toyota Tundra takes on the Ford F-150

Here at Puente Hills Toyota, we understand that not all of our San Gabriel Valley area customers are in the market for a new sedan or SUV. While such vehicles are great for some, for others there's nothing quite as satisfying as a handsome pickup, one that's brimming with strength and loaded with features. Fortunately, when it comes to shopping this year's lineup, you'll find that the 2017 Toyota Tundra makes for this very kind of pickup. To learn even more about this year's model, particularly when it comes to taking on competitors such as the Ford F-150, we encourage you to read on below...
Why the Toyota Tundra Beats Out the Ford F-150


1.Get More Bang for Your Buck with the Toyota Tundra

There's no denying that buying a new car means spending a few bucks here and there. It is worth noting though, that when shopping for your next vehicle, you shouldn't be forced to break the bank. Fortunately, when you choose the Toyota Tundra, you won't have to. Boasting a lower base price than the Ford F-150, this year's new Toyota Tundra is priced to please even the most wallet conscious car shoppers.

2. A Wealth of Power Under the Hood

When it comes to shopping for a new pickup, you're going to want one that offers a reasonable amount of power under the hood. Choose the Toyota Tundra and you'll find yourself enjoying a full 381-horsepower and 401 pound-feet of torque via its standard 5.7-liter V8 engine. As for the new Ford F-150? Its standard 3.5-liter V6 engine is only able to achieve a mere 282-horsepower and 253 foot-pounds of torque.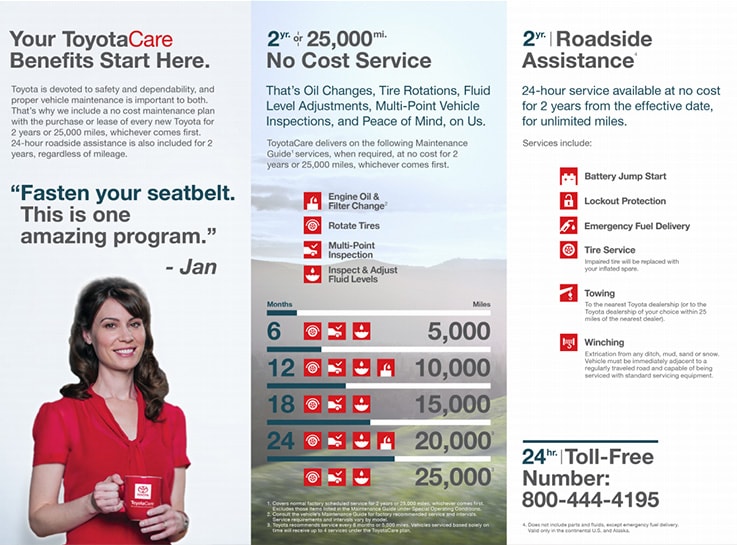 3. Enjoy the Benefits of ToyotaCare

Buying a new pickup is a kin to making an investment. Fortunately, Toyota is here to help you protect it. Thanks to ToyotaCare, you'll find yourself enjoying the benefits of a no-cost service plan with 24-hour roadside assistance for the first two years or 25,000 miles. Covering normal factory-scheduled maintenance like oil changes, ToyotaCare makes keeping your car in top notch condition a rather easy feat. Unfortunately, Ford doesn't offer a maintenance plan that's as comprehensive as ToyotaCare.

4. Get the Inside Scoop on Torque

We all know that it takes plenty of torque to get a vehicle moving, particularly a pickup truck. Fortunately, the 2017 Toyota Tundra offers no shortage of torque when equipped with its standard V6 engine. Achieving a full 327 pound-feet of torque, this year's new Toyota Tundra comes standard with all of the power that you need to get moving. As for the 2017 Ford F-150? This year's model isn't quite as powerful as this year's new Toyota Tundra.


5. Gear up to Tow to Your Heart's Desire

When it comes to towing anything from a boat to a set of dirt bikes, the 2017 Toyota Tundrahas got you covered. Equipped with the 3.5-liter V6, this year's new model is able to tow just about anything. Opt for this year's Tundra, outfitted with the available Tow Package and you'll find yourself towing up to 6,800-pounds, with a maximum payload capacity of 1,440-pounds. Unfortunately for the Ford F-150, it isn't able to tow nearly as much as this year's new Toyota Tundra.
Conquer the Road Ahead with the 2017 Toyota Tundra!
Whether you're still in need of some convincing, or are ready to get behind the wheel and take the 2017 Toyota Tundra out for a spin, we invite you to stop by our showroom to speak with a member of our sales team. Conveniently located in City of Industry, CA, we look forward to welcoming you in to our new Toyota dealership soon.